Although nothing can replace the appeal of the warm and sunny summer weather, there is something beautiful about winters as well. Maybe it's the idea of drinking warm beverages by the fireplace or wrapping yourself in a comfy blanket with a good book in your hands. Wintertime is also when we women can show off our style while staying warm and cosy. And while wearing warm coats and oversized sweaters is a must, it is the different types of womens boots what ties it all together both warmth and style wise.
Riding Boots
Flat soles and knee-high length are what can best describe these types of boots. The key to choosing a riding type of boots that can be worn with many outfits is to choose as simple as possible. The less the buckles and embellishments, the better. Because of the simple design, these types of boots can be paired almost with any type of outfit, thus they are perfect for different occasions. When it comes to the material, leather is the most commonly used one.
Ankle Boots
Whether you prefer flat ones, or with a thick or thin heel, ankle boots are one of the most distinguished types among the various womens boots and every woman should have in her wardrobe. The wedge ankle boots are both comfortable and stylish and are great for everyday use. You can wear them when grabbing a coffee with a friend, when going on a lunch date or even at work. The heeled ones, on the other hand, can also be worn for these occasions and also for evening night-outs and cocktail parties. If you want to go bolder though, you can choose ones with zippers and buckles.
Over-The-Knee Boots
You might have already noticed that over-the-knee boots are making a huge comeback. Whether made of suede or leather, these types of boots are quite versatile as they can be worn with leggings, over skinny jeans, with dresses and skirts. They can be both more elegant or more casual, which means that they can be worn both for formal and informal occasions.
Chunky Platform Boots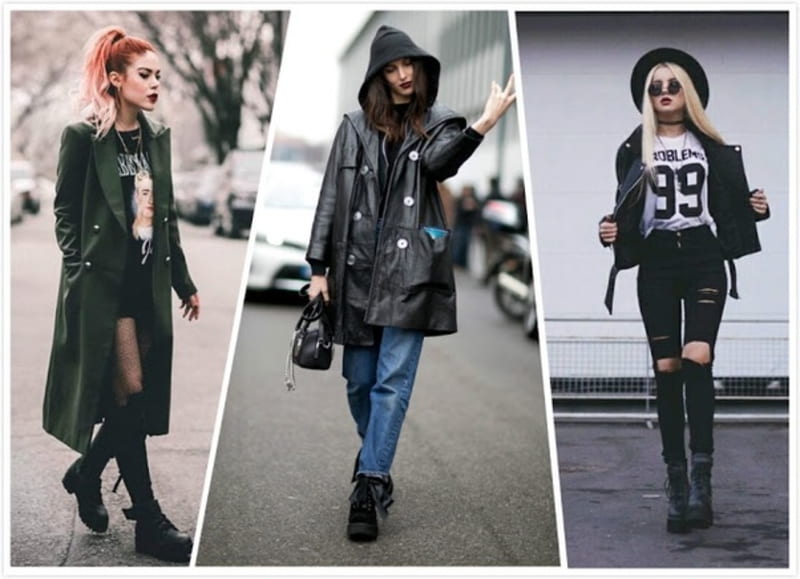 Last but not least, if you are a fan of the grunge style, you can treat yourself with a pair of chunky platform boots. These types of boots can be paired perfectly with more casual outfits like for example, ripped jeans, a plaid flannel shirt and a t-shirt.